About Me
Geoff is an experienced strategic advisor, chairman, CEO, executive coach, and mediator with a strong track record of leading change  in Ireland and internationally.
Geoff's expertise lies in creating the space for leaders and their organisations to create a context for success. He does this by enabling leadership teams to envision a future that is better than today, to harness the capabilities  and resources for achieving that future and by bringing accountability to the strategy execution process.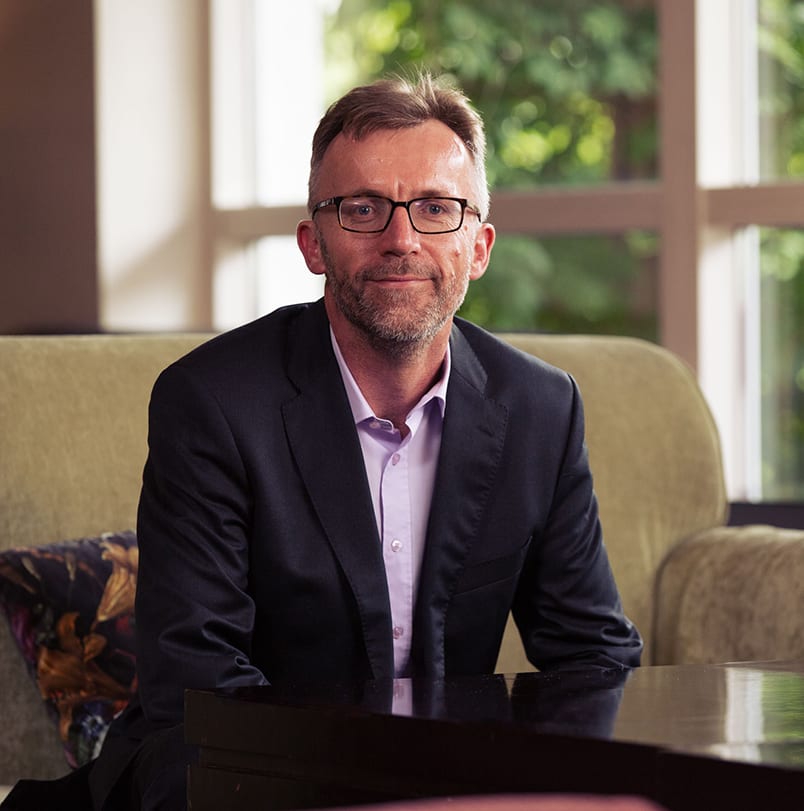 Leaders typically call on
Geoff when these
organisational challenges arise:
Stagnant or declining top-line performance
The organisation lacks direction and focus
A perception of constant resistance to change
Conflict in dealing with systemic change
– market, regulatory or technological
Leadership team disengagement or misalignment
Inability to make and implement strategic choices
Organisational meetings are disappointing
Failure to stand out from the crowd
Ineffective execution
Poor accountability structures
Difficulty with attracting and retaining great people
Inadequate governance
7 Attributes Assessment
TAKE THE ASSESSMENT –
Is Your Organisation
Future Ready?
The 7 Attributes® Assessment is simple yet powerful tool developed to help you assess the vitality of your organisation. You will receive a copy of your assessment results, showing where your organisation ranks.
This key information will help you build a roadmap to future success. You will also receive a complimentary consultation with Geoff.
"Geoff is without doubt one of the most astute and effective strategic thinkers I have ever met. He combines this big picture view with sharp insight into the details of interpersonal relationships and financials. His outstanding intellect means that he quickly sees right to the heart of the matter, teases out what is really at stake to support transformative change, and politely but firmly challenges any option other than the very best. It's been a joy to work with him."

Andrew Curwen, Chief Executive at XLVets, UK

"Having worked closely with Geoff Dooley in his capacity as Chairman of Nuffield Ireland for 3 years, and prior to that as a Board member and Nuffield Scholar, I have found him to be bright, professional, energetic and relates very well to people. He is highly regarded in the agri-food sector in Ireland and has excellent contacts in, and knowledge of, global agriculture and business. He gives generously of his time and expertise on a voluntary basis for causes that he believes in."

John Tyrrell, Executive Secretary, Nuffield Ireland

"Geoff joined our organisation shortly after it was set up in 2009. During the past 10 years he has played a key leadership role in our company. Under his leadership our original ideas have been transformed into a structured, progressive business which is continuing to grow. Geoff is an excellent leader, organiser and problem solver. He is forward thinking and always looking for new opportunities. His communication and public speaking skills are excellent and I personally have learnt a huge amount in my dealings with him and feel certain that his skills would be a huge asset to any organisation."

Tadhg Murphy, Partner at Adare Veterinary Clinic,
Director and CFO at XLVets Ireland

"Geoff has been part of XLVets Ireland since it's launch…. He has boundless energy, enthusiasm and passion, yet brings critical and often novel thinking to any discussion. He is visionary and always able to see "the bigger picture". Geoff is highly personable, and he always brings a positive contribution. I have no doubt that he will add value to any project, workshop, coaching activity or facilitation he is involved with."

David Black, Partner at Paragon Veterinary, XLVets UK Founder and CEO at VetSalus

"During Geoff's tenure on our board he was incisive, engaged, responsive and committed. As Chair of our Governance committee, Geoff had a large influence during our corporate governance and strategic planning discussions. His ability to distill multiple opinions down to a concise overview proved very helpful in moving a conversation or policy discussion forward. I very much appreciated his easy going manner and his measured and thoughtful approach to any challenge presented."

Kelvin Meadows (Canada), Chair at Nuffield International

"I have known Geoff since 2010, when he worked as an Environmental Communications consultant to the Irish Creamery Milk Suppliers Association where I was then General Secretary. Geoff excels at inspiring progress and positive change. Geoff has an outstanding ability to grasp complex issues quickly and to communicate them in simple and clear terms. He is an excellent listener and is adept at putting issues in their wider context so that they can be considered and addressed in a strategic way. Geoff is highly personable and an outstanding net-worker. With his highly positive approach and strong solution orientation, he is an effective team builder and leader."

Ciarán

Dolan BL and former General Secretary,
Irish Creamery Milk Suppliers Association

"For the past two years I have been part of a steering council for an SME involved in the Agricultural sector. The role of the council is to provide direction and opinion to the company that is looking to expand and avail of new opportunities. The council has been chaired by Geoff since its inception. Geoff has facilitated group discussion amongst the members taking into consideration varying opinions on particular topics.
These opinions help shape the growth strategy of the business in areas like recruitment, target markets, finance, training etc. Geoff offers more than just group facilitation. He has a genuine interest in seeing the business progress and offers his own opinion on matters even if contrary to the business owner. For any company or group looking to navigate growth or change I would highly recommend the services of Geoff Dooley."

Bertie Troy, CEO at Grasstec Group Limited

"Geoff's clarity of thinking and his ability to communicate the required message has been key to Saturn Farms as we have scaled our business over the last 5 years. Geoff's methodology works!!"

Bill O'Keeffe, CEO at Saturn Farms

"Working with Geoff for almost 10 years has been educational and inspiring. Possessing a rare capacity to both lead, and work with people in an organisation, he has identified many opportunities for our business, and, most importantly, shown the resolve and the tenacity to convert those opportunities into realities. I have found him to be a man of real integrity, a leader, true to his word and having the qualities that you would wish all the people around you in business to possess."

Ger Cusack, Partner at Comeragh Veterinary and Founding Chair at XLVets Ireland

"Geoff is an exceptional leader who has the rare ability to bring out the best in people. I found working with him to be a very rewarding experience. He encouraged me to leave my comfort zone and realize my potential. He is a remarkable communicator who encourages innovative and progressive thinking. His enthusiasm and dedication inspires his team to work hard and achieve their goals.I will miss working with Geoff and will always be grateful to him for instilling in me a greater sense of self-belief."

Mairéad

Berkery, Partner at Avondale Veterinary Clinics
and Director at XLVets Ireland

"I worked with Geoff in my role as a Director of XLVets and as Chair of VetInsights for 5 years. Over that time he has consistently demonstrated a high level of facilitation, leadership and coaching skills to enable and inspire others to set higher goals and to hold them accountable for achieving those goals. He has the ability to bring an original perspective to complex issues and to see solutions and opportunities that others may miss. He has shown himself to be an ambitious and courageous leader on behalf of XLVets. His vision of the future of veterinary and farm animal production has been a key driver of our organisation's strategy since its foundation 10 years ago."

Donal Lynch, Director at XLVets Ireland and former Chair at VetInsights

"I have benefited greatly from Geoff Dooley's knowledge and skills. A consummate professional, Geoff is a strategic thinker, a superb communicator and has excellent leadership skills. As one of a select group of Nuffield scholars in Ireland and as chairman of Nuffield Ireland, he has a deep knowledge and understanding of developments and trends in the agri-food sector and a unique network of contacts nationally and internationally."

William Minchin, Ruminant Business Unit Director at MSD Animal Health

"Geoff's engagement and leadership has also been critical with regard to compiling and articulating Nuffield International's vision and mission statements and the associated core values we aspire to uphold as an organisation. From a personal perspective, his influence in setting our objectives and strategic goals has been profound. Geoff's considerable intellect and capacity to lead people through these change processes has been instrumental in setting a new and exciting path for NI which will continue to demonstrate the uniqueness of the Nuffield scholarship program on a global scale."

Jim Geltch (Australia), CEO at Nuffield International